The school takes its duty of care to safeguard children very seriously. The internet is an exciting and fun place for adults and children to use and explore educationally and socially. The challenge for parents, carers and teachers is to make sure our children are aware and understand how to be safe when using the internet and related technologies. The link below has some useful information to help children to use the internet and social networking sites. Children below the age of 13 should not be using Facebook. When they do start to use it they will need to understand the potential dangers as well as the impact of what they write upon others. www.thinkuknow.co.uk. Other useful websites with e-Safety information can be found below.
In school, we teach children the SMART rules for staying safe online. You could ask your child how they stay safe online and discuss these rules.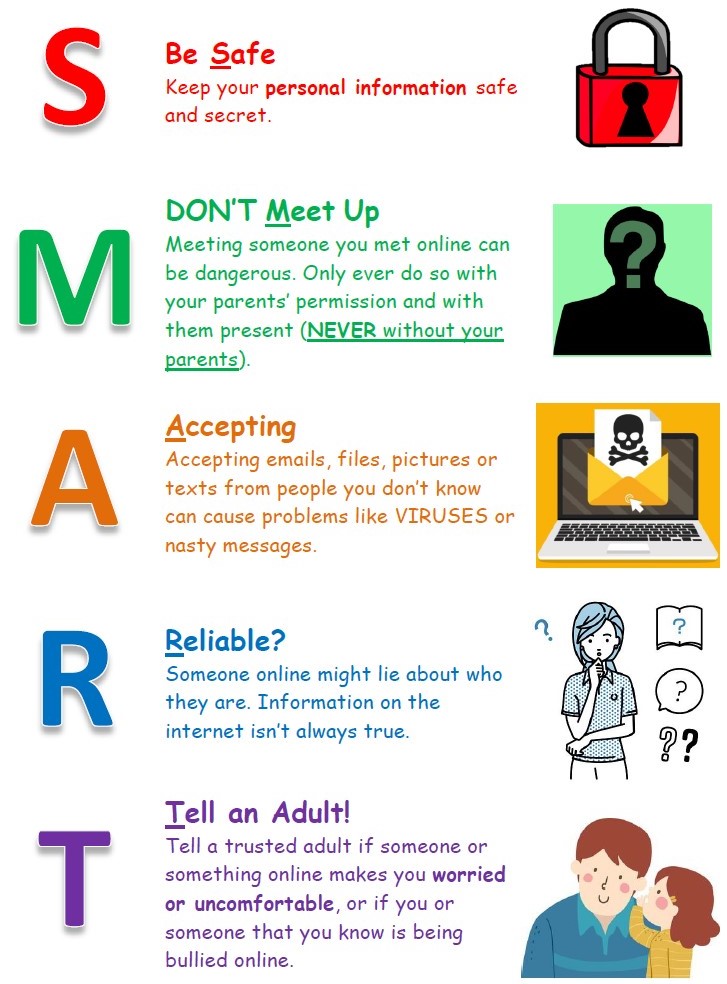 Please see the Herts for Learning newsletters produced for Schools, Parents and Carers
You might be interested in this real life case scenario outlined in link below:
Helpful advice on safe use of internet and associated technologies can be found here:
Online gaming – what parents need to know
'New technologies, including gaming, can offer our children many exciting and positive experiences. However schools are increasingly aware of the negative impact that some online gaming is having on the education, achievement, sleep and behaviour of children. To find out more about the online games your children are playing and obtain advice offered to parents/carers based on research, please do listen to the Radio Verulam's Parent's Show podcast 'Computer games and your kids'
You may also like to have a look at the Hertfordshire Mind the Gap conversation starter kit. This has been developed to help bridge the gap and give suggestions to help start conversations between parents/carers and their children about staying safe in the online world. This also contains some helpful advice for parents about using technologies in the home.
This can be located here:
There is comprehensive information about all the online saftey issues on the websites below and once parents and carers have the background on the subject they can decide what is right for their family.
NEW- https://www.internetmatters.org/start-school-safe-online/We've created a range of resources to help you start the conversation and keep your child safe online this new term.
www.thinkuknow.co.uk This link has some useful information to help children to use the internet and social networking sites. (Children below the age of 13 should not be using Facebook)
www.childnet.com A non-profit making organisation working directly with children, parents and teachers to ensure that the issues of online child protection and children's safe and positive use of the internet are addressed.
www.kidsmart.org.uk/parents Kidsmart is an award winning practical internet safety programme website for schools, young people, parents and agencies, produced by the children's internet charity Childnet International.
www.internetsafetyzone.co.uk a government sponsored website developed to inform parents and children about how to be safe on the internet.
www.bullying.co.uk One in five young people have experienced bullying by text message or via email. This website gives advice for children and parents on bullying.
www.internetmatters.org This website contains lots of information about staying safe online, with tips about games, social networking, mobile technology and more.
www.bbc.co.uk/webwise/a-z/ The BBC Webwise is a beginner's guide to using the internet. There is a good section on children's online safety.
http://www.phonebrain.org.uk/under-sevens/ This website explains how playing games on phones is not always free of charge.
https://www.ceop.police.uk/Ceop-Report/ If you have been a victim of online abuse or you're worried about somebody else, let CEOP (Child Exploitation and Online Protection) know securely.